Local News & Contacts
Contact Your Local Franchisee / Agent:
Name: Rich Cornick
Tel: 0787 0809528
Email: [email protected]
Local News (West Midlands & South Staffs)
***Nuts Pub Poker News 6th Sept 2020***
Following some discussion we have made the decision to make the Nuts Poker League available to licensed venues again.
It is obviously still a difficult situation with the current Covid-19 environment but venues have been operating in that climate for over 3 months now and are well used to putting in place required rules and guidelines to prevent any possible spread.
We have decided that for those venues and players that want to re-start games the league will be available again. Of course all games and players must follow the rules in place at the venue that they play in, so for example social distancing rules, entry and exit rules, track & trace requirements, cleanliness, bar ordering systems and seating rules, adherence to any modified trading hours etc, etc.
It goes without saying that if you have any virus symptoms do not attend any pub games.
As poker uses common equipment we will be recommending further cleaning and control methods around its use and consideration should be given to cleaning required when players are knocked out and consolidation takes place, this document will be sent out to all participating venues and tournament directors.
It is of course the responsibility of the licensee that all activities with their premises adhere to the practices in place and they deal with any issue as and when they arise. Of course designated TD's will be required to assist with this activity as required.
For central Midlands venues (Shropshire / West Midlands / Cheshire / Staffordshire regions) a new season will commence from Sunday 27th September and run through till the end of the year.
In the new year a regional final will be arranged. The date and venue need to be confirmed but my initial thinking is that for all areas as detailed above it will be held at Grosvenor Stoke.
At this game there will be a cash prize pool added to any buy in and the top players on the day will also get seats to a England & Wales National final which as usual is planned to be played at Grosvenor Coventry with a £10,000 cash prize pool.
The regional prize pool and seats to be won will be dependant on player numbers throughout the 3 month season. An estimate of that should be available within a few weeks of the league starting.
Obviously all casino games are all conditional on multi table tournaments being allowed in casinos at that time.
Social distancing around a poker table will obviously mean that capacities at venues will be greatly reduced. Additional equipment can be obtained and my suggestion is that each venue looks at this and publishes a maximum number that can be accommodated there.
Like other activities at venues when maximum numbers are met further people will unfortunately have to be turned away so that the venue guidelines are not broken.
To help that situation I suggest that the TD publish a contact number so that players can either pre-register or confirm places are available before travelling.
Also there is an option to make your venue a "private invite only" one, as the venue details are not displayed on the website it stops people just turning up out of the blue and puts absolute control of who plays in the hands of the TD.
Lastly, although the initial plan was to re-start and complete the Jan to April season the current situation makes it unrealistic, so that season will be considered finished at the point it stopped. I will be organising, when I can, separate regional games for that season for those players that finished in a qualifying position. There will be cash added and seats to the Coventry final to be won
I will be reviewing the seats to the Coventry final and looking at where they are allocated. I may need to change some things in this area. I will contact each venue individually if it affects them.
We will be going ahead with the missed Coventry final that was due to take place in April for those players that qualified from the regional events that tool place earlier this year.
The 2020 UK Final will be also be rescheduled and will go ahead, planned for spring 2021. The 2021 UK final will also be re-scheduled to a later date. This will of course be dependant on how successful the upcoming seasons are, but the plan is that the UK Final will still be a big part of the Nuts Poker League calender.
Ok, I hope I've covered everything but if you have any questions please post them up and I will try to answer them. This has been a difficult time but hopefully this is the start and first step getting pub poker back to normal and your support in this is gratefully appreciated.
I know not all players and all venues will want to play under these conditions, but if you do want to please let me know and we can discuss your particular venue and I can set the website up for results to be entered as required.
Sorry for the long post but there is obviously a lot of information to cover.
Thanks again for your continued support.

What can I win by playing poker in the Shropshire & West Midlands area of the Nuts Poker League?
The below infomation is currently paused pending the successful re-start of pub games at the end of September 2020. The current plan for that new season is to have a regional final in early 2021, based in a casino with cash and seats to a £10,000 cash National Final at Coventry to be won. When we are fully up and running the below will be fully reviewed and details updated as required..........
With the introduction of the new yearly small field UK final where the winner will get £10,000 cash, the total you can play for each year in this area is over £50,000 cash plus trips to Las Vegas.
End of season events:-
Everyone that finishes the season above a red line in either a venue or overall region league will be eligible to play the Area Grand Final held at Grosvenor Casino Walsall. At this game there will be £1000+ added cash to play for, England & Wales Final seats at Coventry for top players, a free buffet at the first break and it will be a fully casino dealt game. On top of the cash & E/W final seat the winner will also get a seat to the UK Final playing for that top prize of £10,000.

The same players will also be able to play the local pub based National Qualifier where seats to the end of season England & Wales final at Coventry will be up for grabs.

Each season there is another chance to book your seat to the new UK National Final. For all players that play a minimum of 25 games throughout the season there will be an additional end of season event arranged. The winner there will go direct to the UK Final playing for that top prize of £10,000. The 25 games can be made up of a combination of live and on-line games

There is also an end of season "Bonus Tournament" played at Grosvenor Casino in Stoke where the winner will get a seat in the UK Final and the top players will get a seat to the next England & Wales Final held at Coventry.

The winner and runner up of every league will be able to play the casino based UK Final satellite game where 2 seats to the UK Final are guaranteed plus cash prizes dependant on total number of runners on the day.

At the end of season Coventry final there is a total prize pool of circa £10,000+ and the winner on the day will get £3,000 cash, a seat to the UK National Final and a trip to Las Vegas playing in the World League Poker Championships where the main event has a guaranteed prize pool of circa $25,000
Check below for details of all these events and previous winners.
If you want your poker game to be part of the league and get all the above chances to win big contact me through the details shown above and I can give you all the necessary information
Join the facebook group to see all the latest news and new venue information.
https://www.facebook.com/groups/60462144862/
*****NEWS AND UPCOMING EVENTS*****
*****LATEST RESULTS*****
Mark Turnbull from Telford became the first player in the Country to get a seat at the new Nuts Poker League UK Final with a top prize of £10,000 cash - the biggest single cash prize in pub poker history. He got his seat in the January to April season free-roll loyality bonus game. Well done Mark.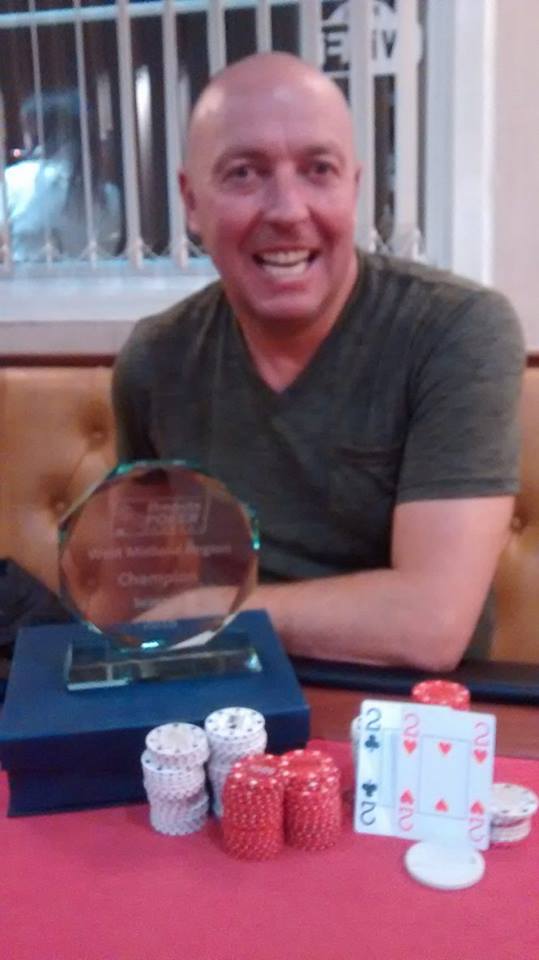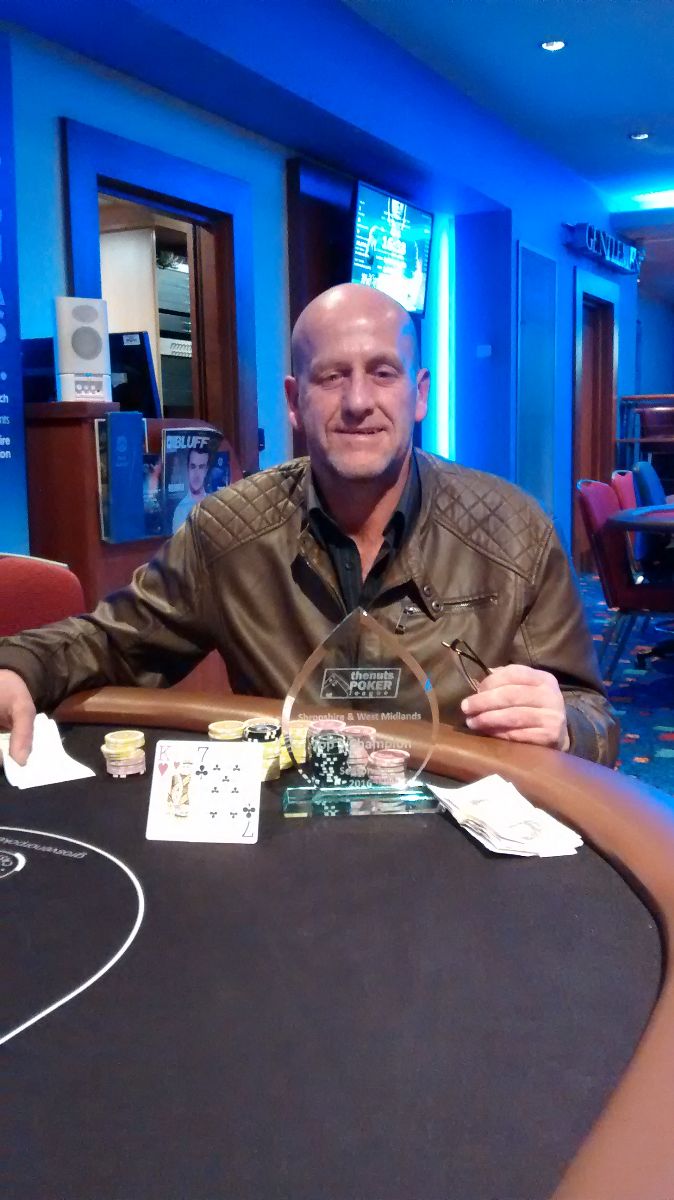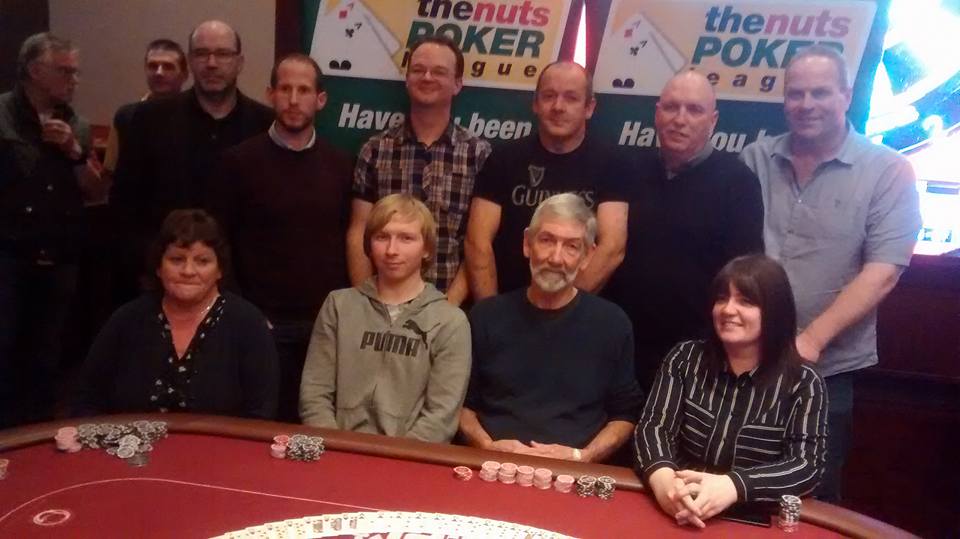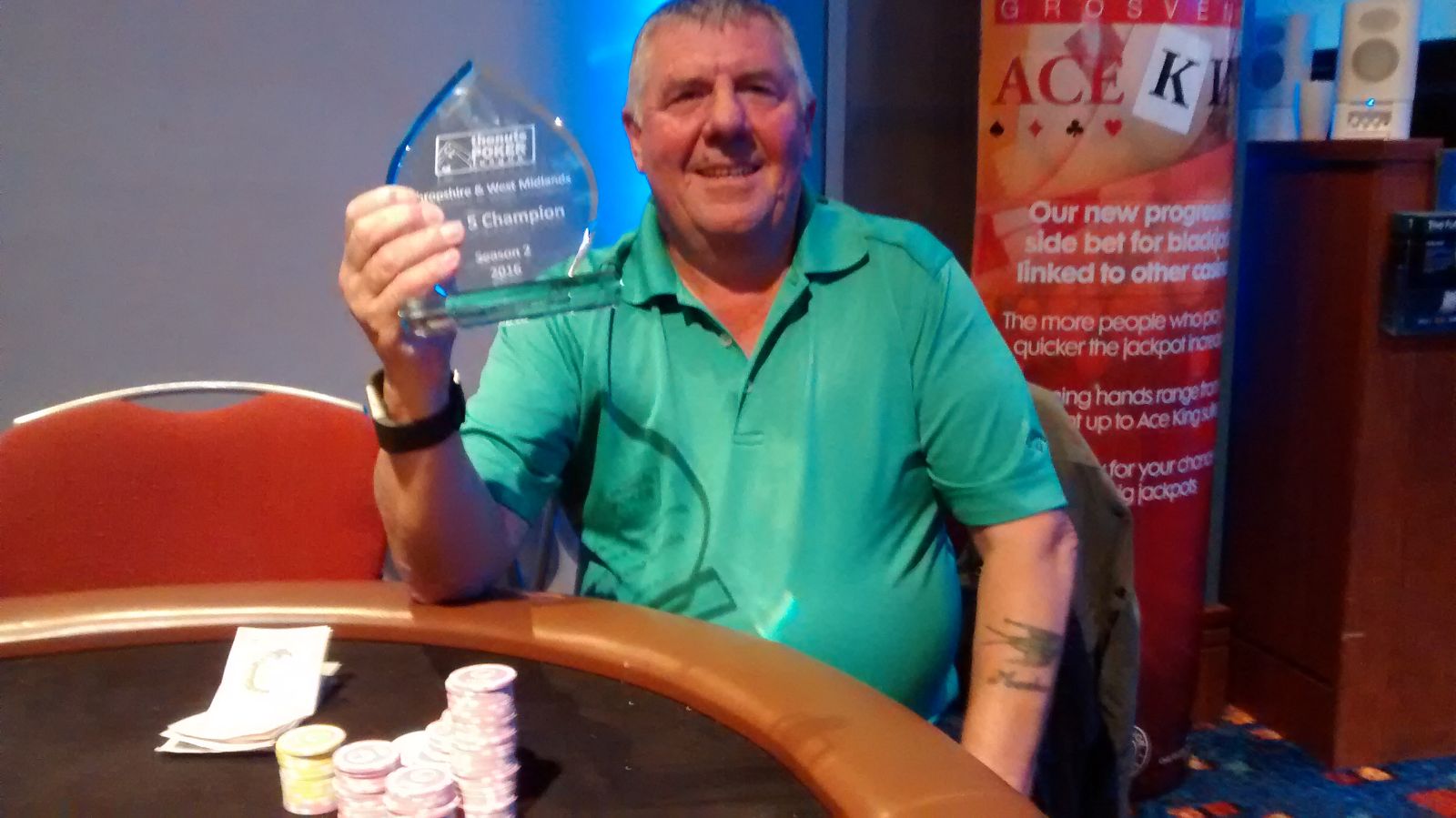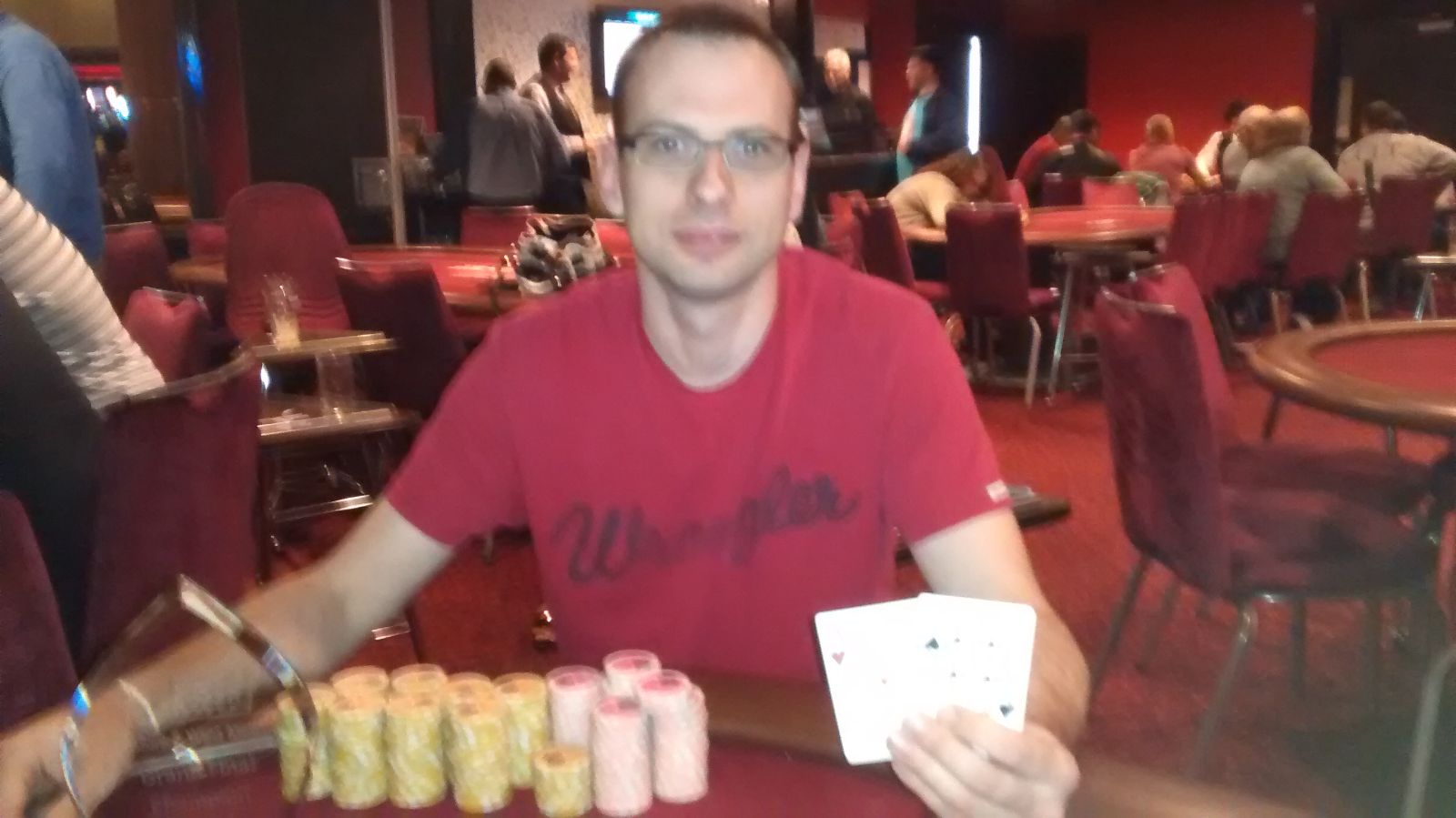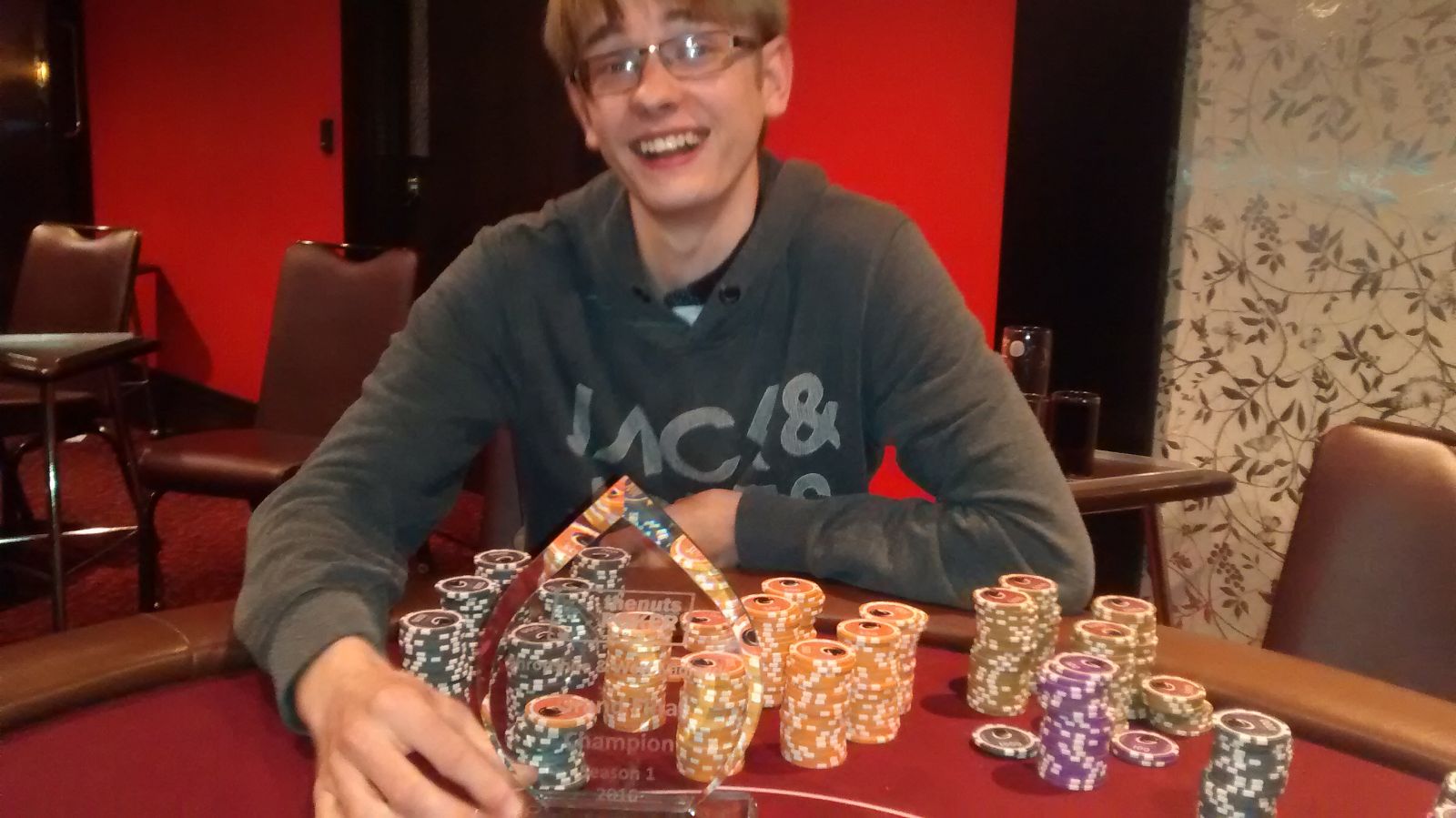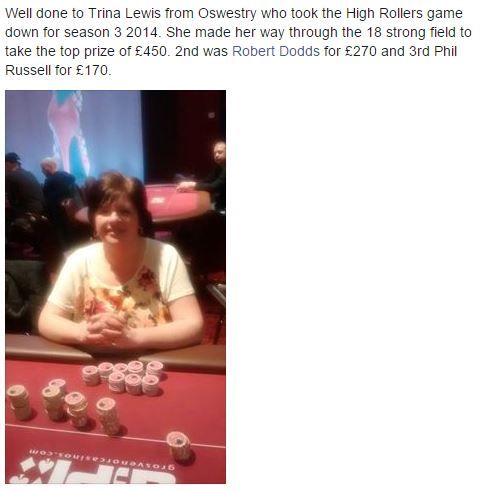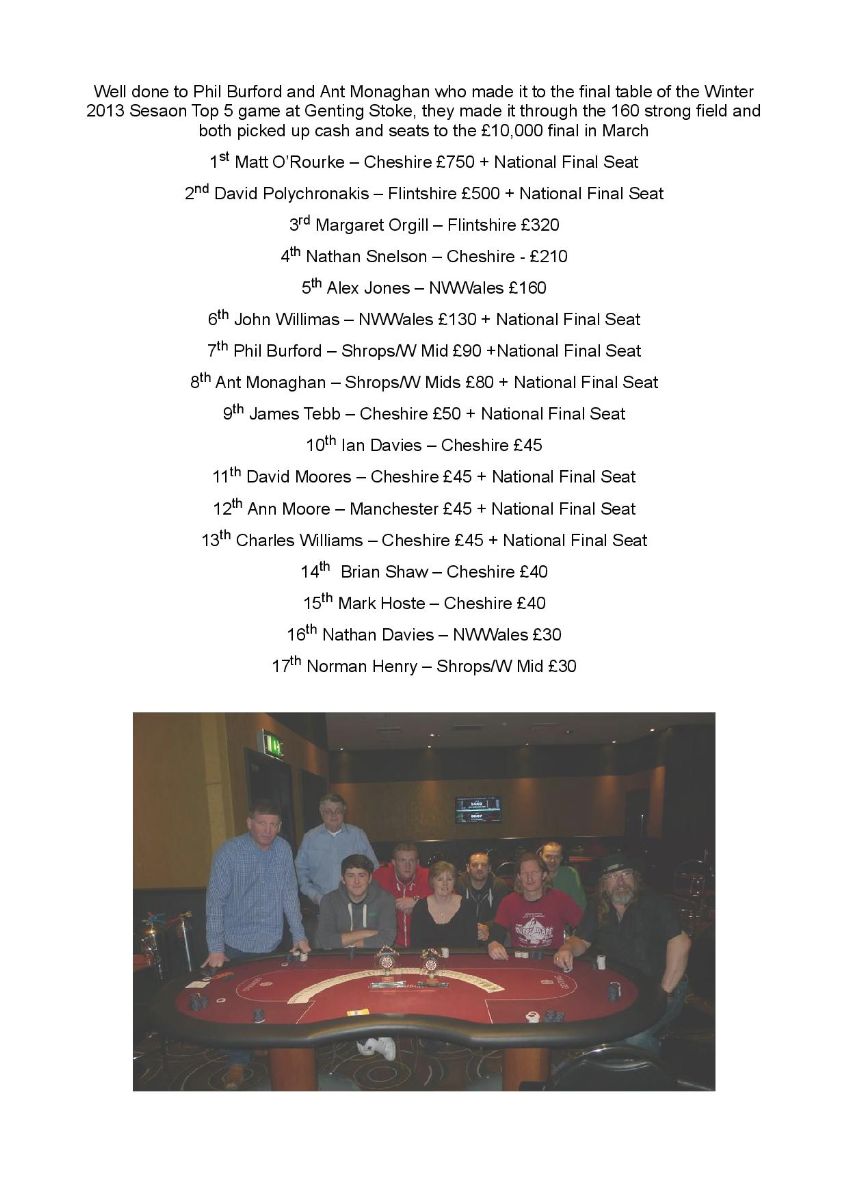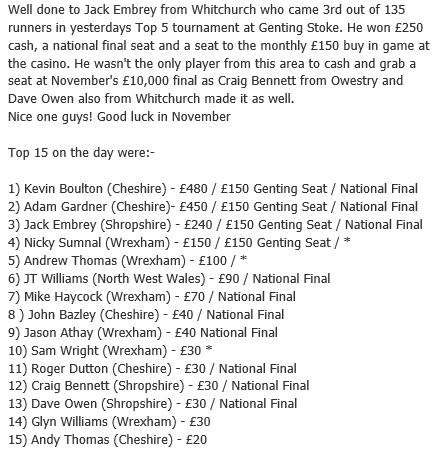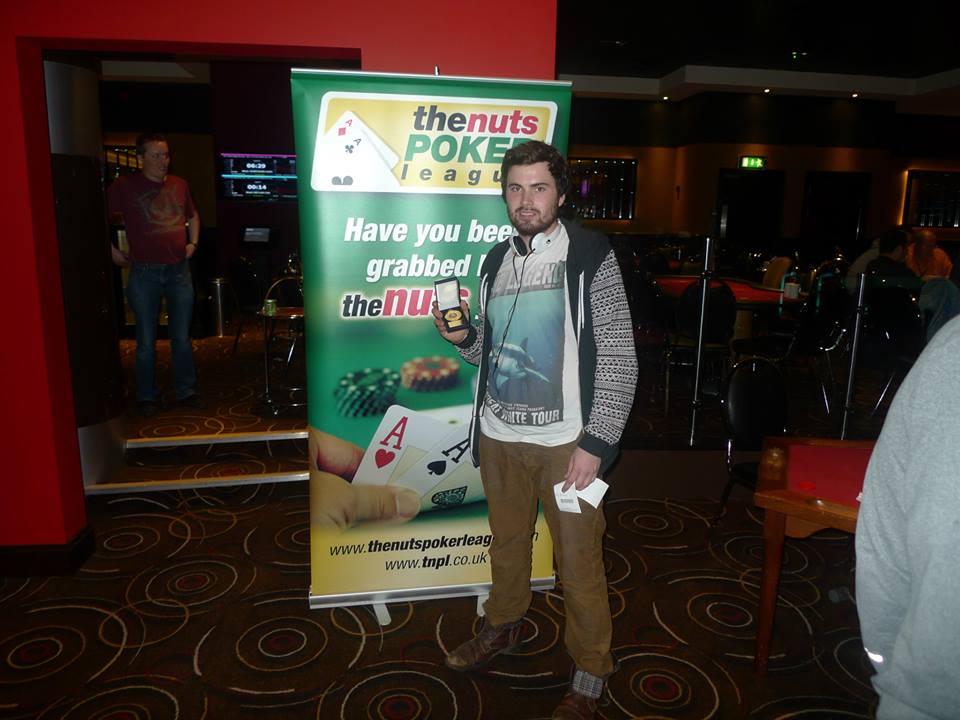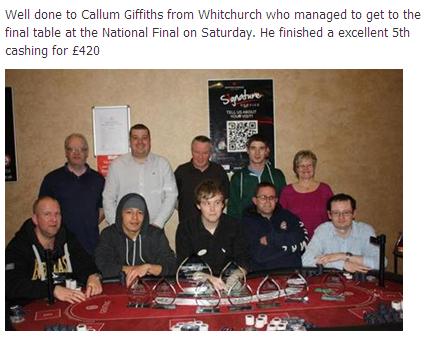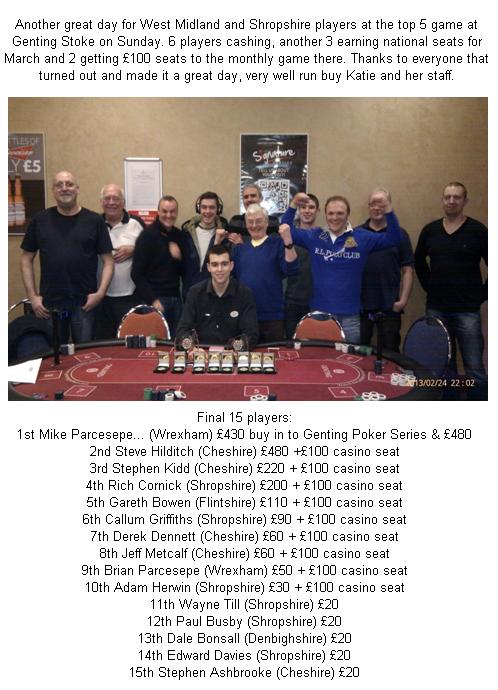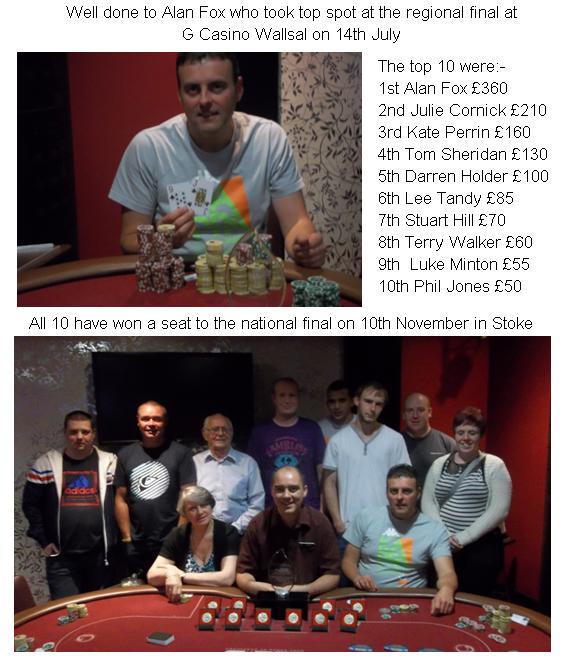 Well done to all the players from this area that cashed in the National Final in May. You can see a report of the day and details of prizes here:-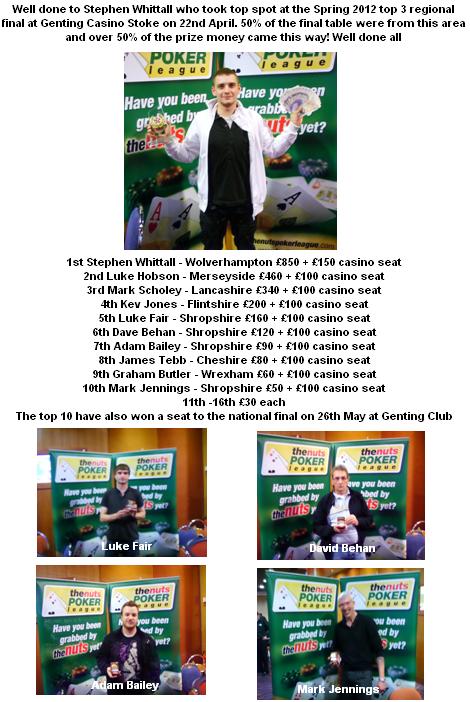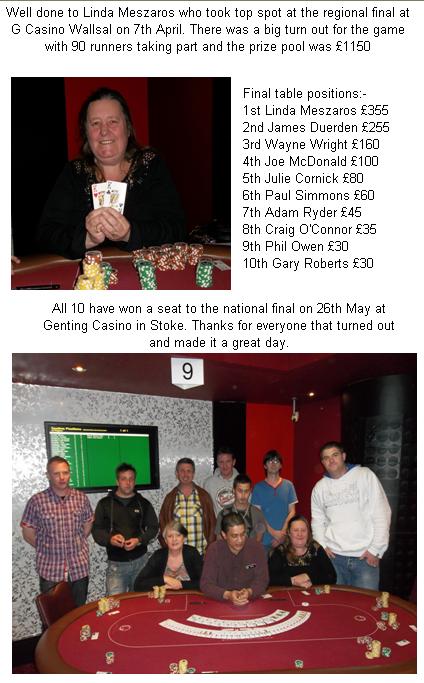 Congratulations to all the ten players that won a seat to the national final in May at the top 3 game on Sunday 26th Feb at Genting Casino Stoke. Well done to Paul Breedon from the Britannia in Telford who came 6th (2nd left front row)