Covid Update Announcement regarding Regional & National Finals
We are in contact with Grosvenor Casinos regarding the Covid social distancing measures that are in force.
At this time, Grosvenor are unable to confirm any future dates for our finals, because until there is a change in guidelines from the Government, tournaments in their casinos cannot take place
We hope the Covid situation that the country finds itself in. improves in the near future, allowing changes to come into effect, which will enable our Finals to take place in 2021.
For further information regarding the league in your area, please contact your local Franchisee/Representative
We hope to see you soon.
£10,000 1st place Cash prize for our UK Champion
Players from England, Scotland & Wales players qualify to our UK Annual Final at which the winner will become UK Champion and win £10,000 cash!!!
Qualification for the next UK Final will be through Regional events, National Finals & on-line Tournaments staged throughout 2019 and early 2020, leading to the UK Final on POSTPONED due to Coronovirus in Manchester (Further details to follow)
For those that qualify to the UK Final, this is a chance to become the Nuts UK Champion and win £10,000 cash, in a deep stacked tournament with a field of 50 players.
Sat 20th April 2019 Final -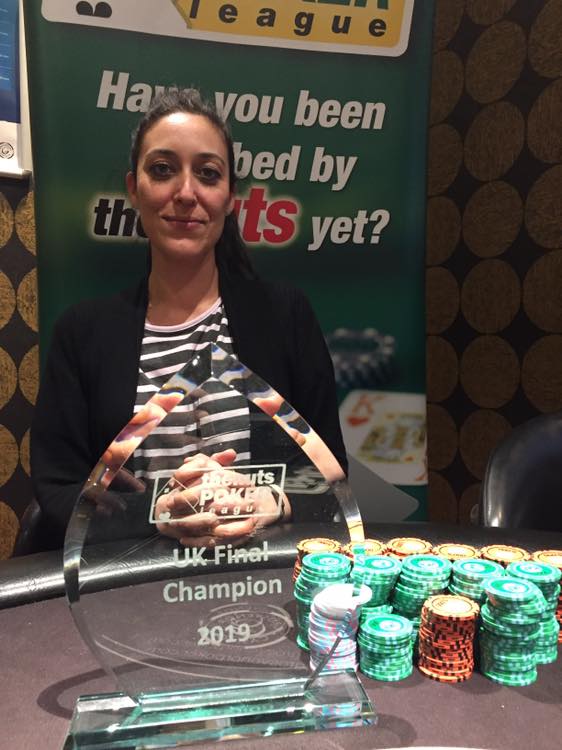 Congratulations to Rosario Ferrer our 2019 UK Champion
41 Players started
When the final reached the final 7 players a deal was struck amongst the remaining players, resulting in thepayout as below
| | | | |
| --- | --- | --- | --- |
| Position | Name | Region | Prize |
| 1st | Rosario Ferrer | Edinburgh | £6000 |
| 2nd | Alan Thompson | East Anglia | £2150 |
| 3rd | Lynda Benson | Merseyside | £1400 |
| 4th | Jim Mackenzie | Edinburgh | £1400 |
| 5th | Steve Fothergill | Manchester | £1400 |
| 6th | Chris Ellerton | East Anglia | £1400 |
| 7th | Dave Adams | East Anglia | £1400 |
UK Final 2020
POSTPONED due to Coronvirus
Venue: Grosvenor Casino, Bury New Road, Manchester
(Further details to be advised)
Qualified Players
1. Mitch Carson 2. Paul Murphy 3. Gary Simpson 4. Martin Day 5. Alex McLaggan 6. Josh Rayworth 7. Derek Parker 8. Gethin John Jones 9. Adam Kaloo 10. Amarjit Dhillon 11. Rosario Ferrer 12. Anthony Gilchrist 13. Neil Gilchrist 14. Neil Saunders 15. Stephen Daley 16. Mohammed Ali 17. Alan Turner 18. Ben Foote 19. Joe Vettraino . 20 John Williams 21. Alan Thompson 22. Mark Froggatt 23. Andy Yule 24. Simon Claxton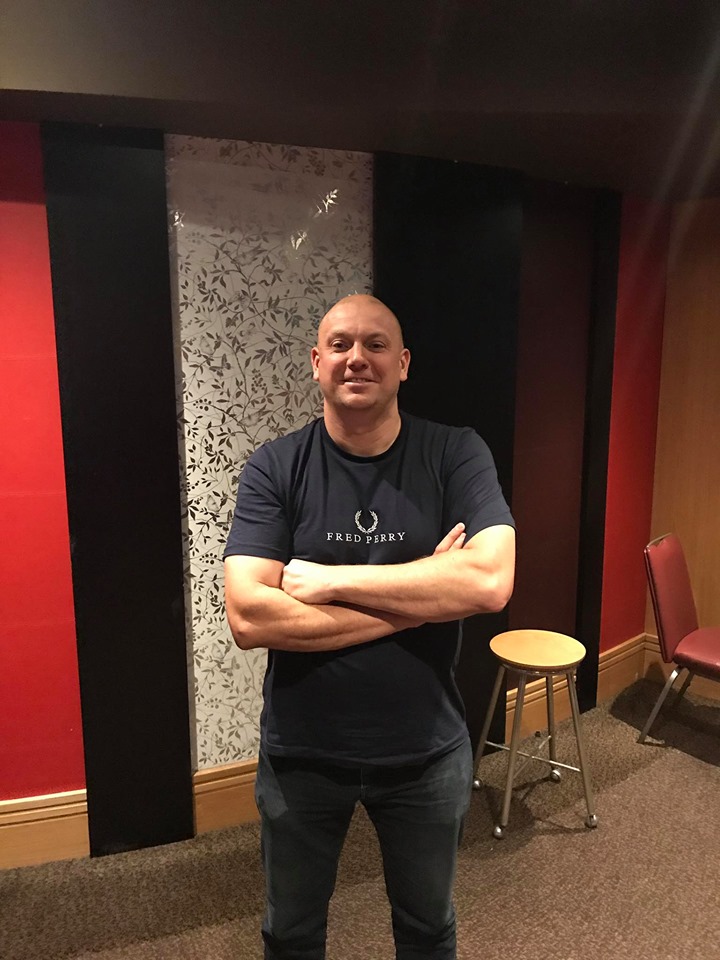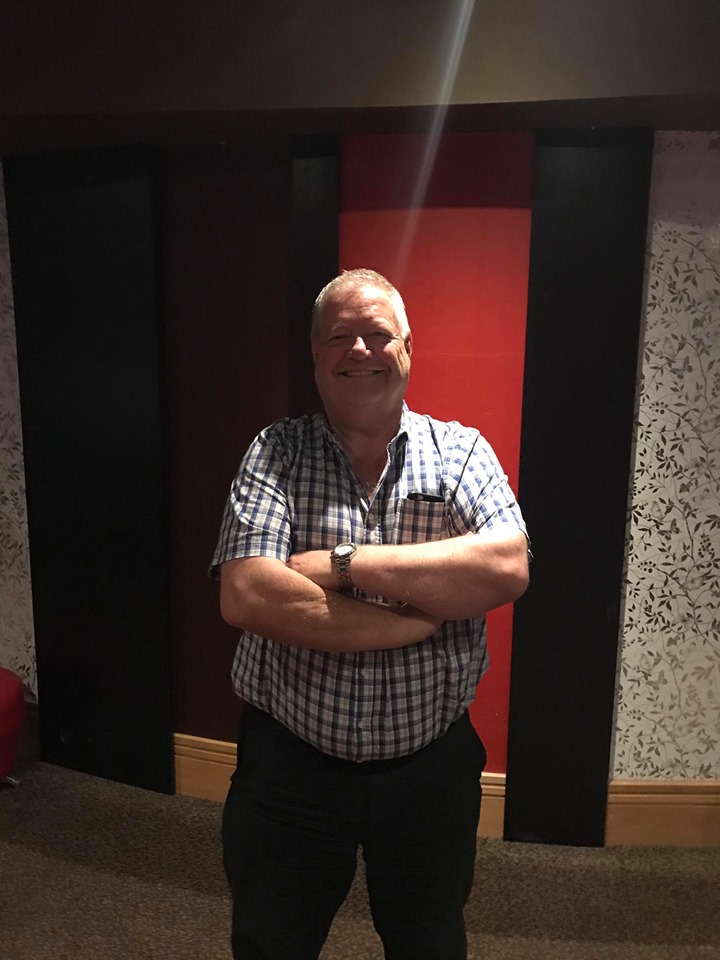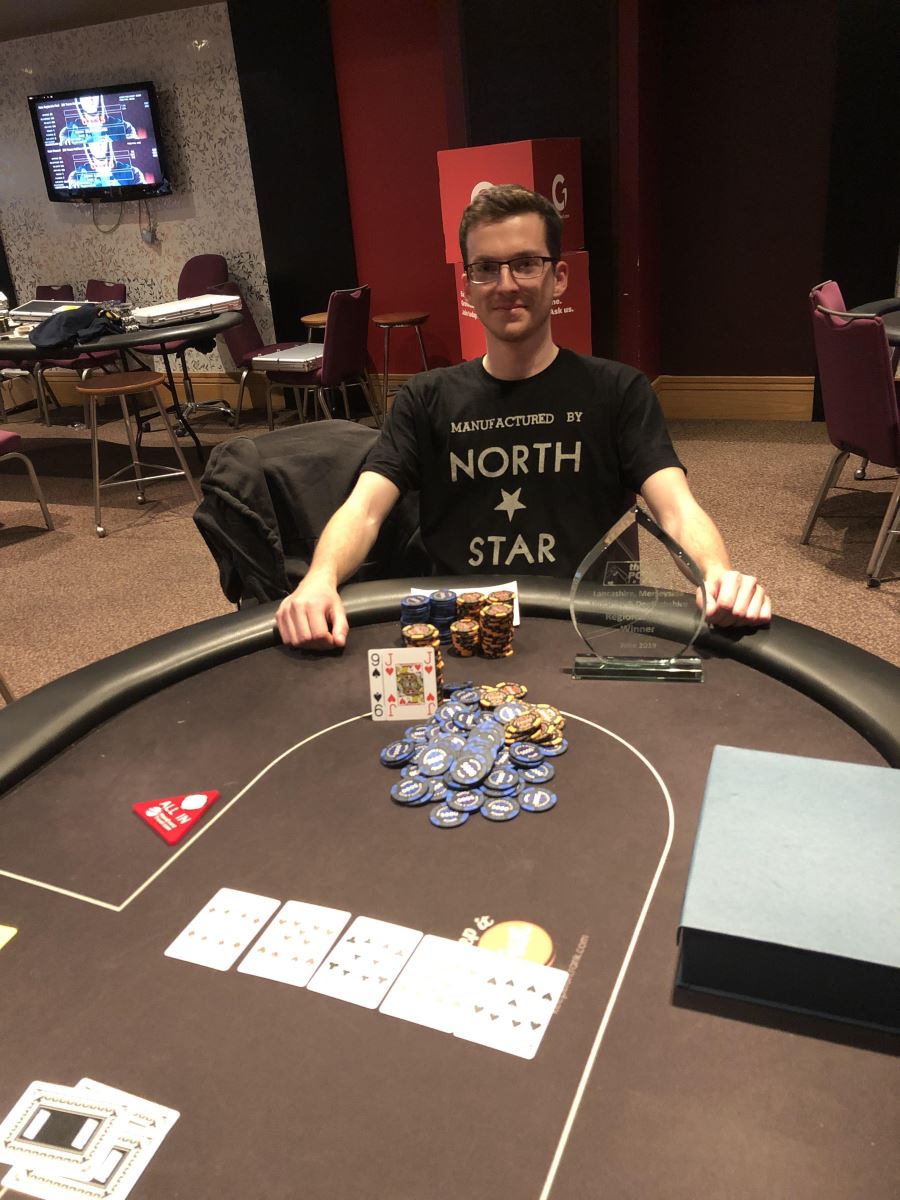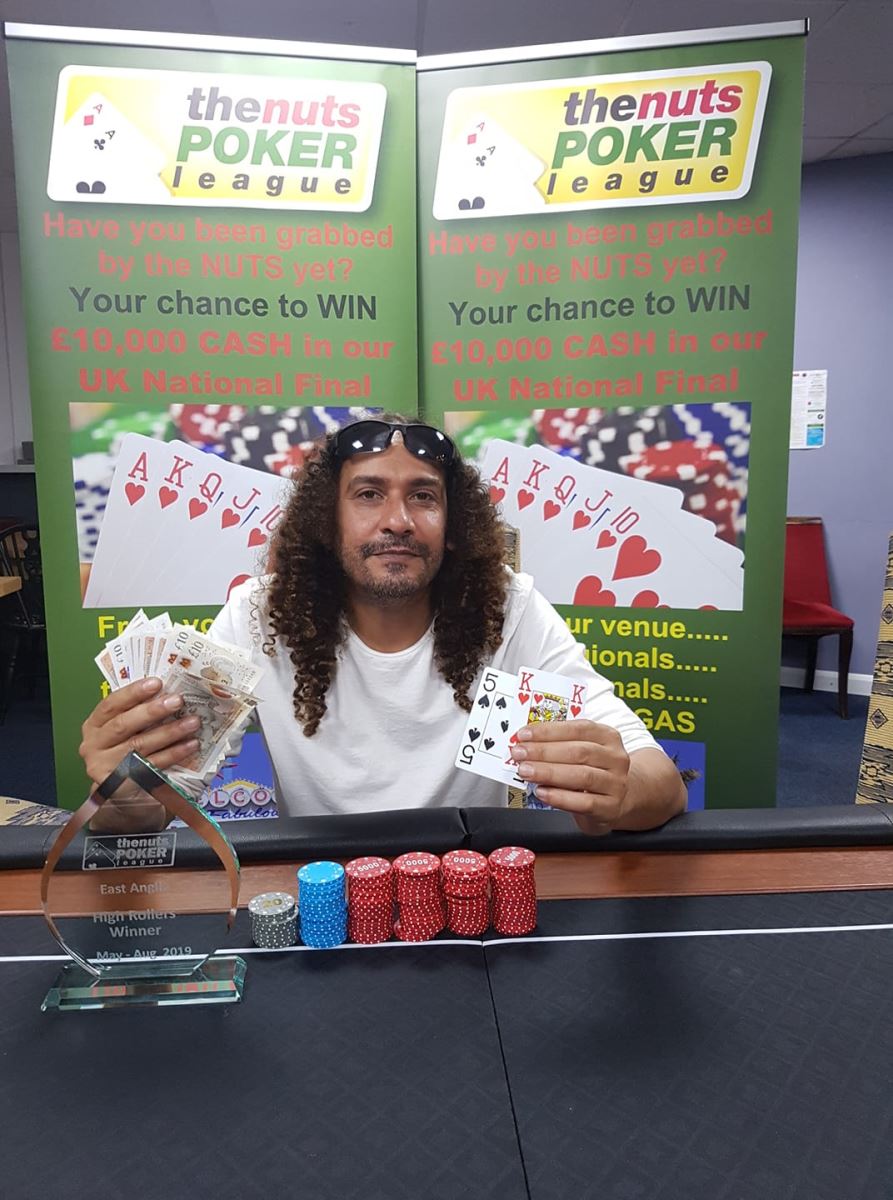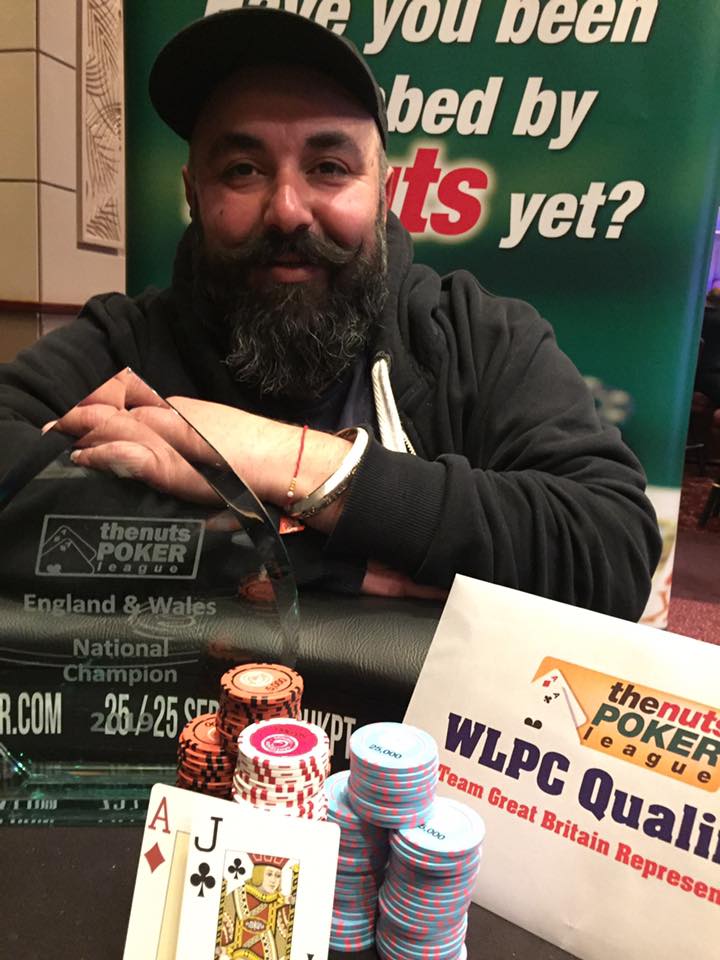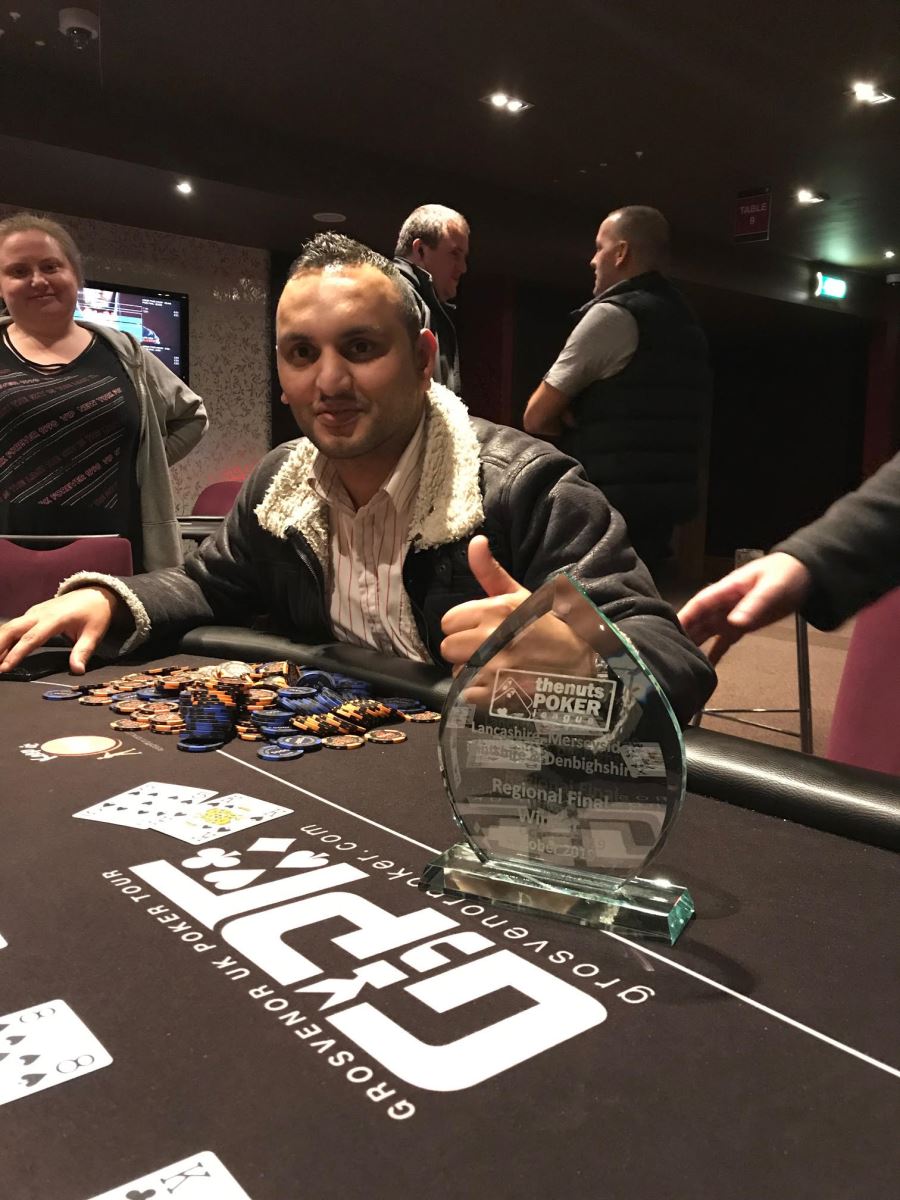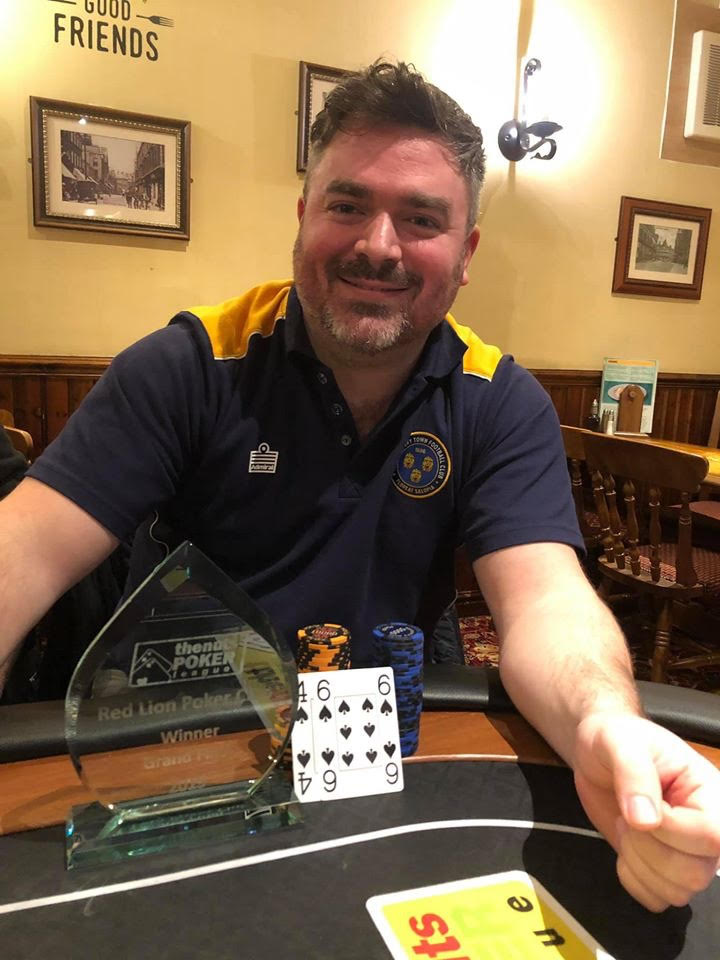 The winners of future England/Wales & Scotland National Finals will win a package to represent Team GB in the World League Poker Championships in Las Vegas, playing against US & Canadian players in a tournament with a $25,000 prize pool!
£70,000 in Cash Prizes per year
With the addition of the new UK Annual Final, throughout the UK, the Nuts will be paying out, a total in excess of £70,000 per year in cash prizes at our casino based finals, PLUS sending players to the World League Poker Championships in Vegas.
Fancy winning a slice of the £70,000, representing Team GB in Vegas, and a chance of winning £10,000?
You'd be NUTS not to!!!
Enter your post code here to find your closest venue.
To become a venue click here